Wood Shakes Roof Installation Service
When it comes to adding a touch of rustic charm and natural beauty to your home or business, there are no other roofing materials that can be compared to wood shakes roofs. This type of roof is made of split logs. They are thicker and more rustic-looking than traditional roof shingles, giving your house a natural, warm, and charming appearance. Wood shakes provide natural insulation, keeping the indoors cooler in summer and warmer in winter. In order to install a wood shakes roof on your property, Roof Rangers is here at your service. We have a large network of expert roofers, who offer the best roofing installation services.
Our enlisted roofing contractors are dedicated to providing high-quality craftsmanship and paying close attention to every detail so that you can get a beautiful and long-lasting wood shakes roof installed. Simply, make a call at 844-334-1444 and we'll connect you with the best roofing contractors. You can also find your local contractors here.
Pros of Having Wood Shakes Roof Installation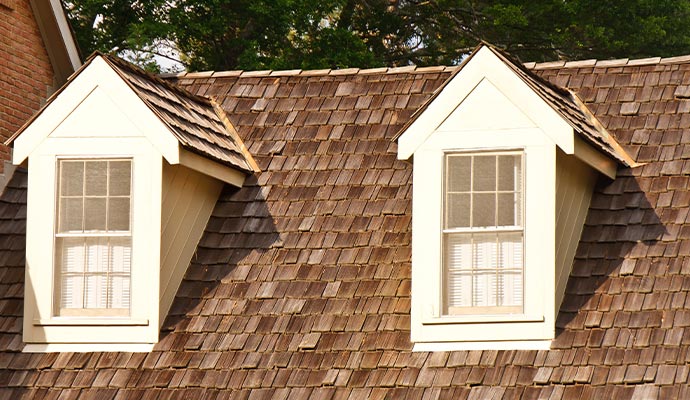 Roofs aren't just overhead coverings but a statement of style, durability, and beauty. And wood shakes roof is a durable roofing material that has several benefits:
Aesthetic appeal: Wood shakes roofs have a natural and rustic appearance that adds character and warmth to a property.
Energy-efficient: This roofing provides natural insulation, which can help lower heating and cooling costs.
Durability: This material lasts 30 to 50 years, depending on the quality of the material and installation.
Increased property value: It can increase the value of a property due to its unique and desirable aesthetic appeal.
Noise reduction: The natural density of wood shakes can help reduce noise from rain, hail, and other external sources.
Low maintenance: This type of roof requires minimal maintenance, and any repairs are relatively simple and easy to make.