Professional Roofing Services for Stores in Your Local Area
Roof Rangers is a company of skilled and knowledgeable roofing professionals. For stores, we provide a wide range of roofing repair, replacement, and installation services. Roof Rangers professionals can help you replace roof shingles or repair a damaged roof in a timely and cost-effective manner. Our skilled roofing contractors have the resources, knowledge, and expertise to handle any roofing problem you may have at your stand-alone store. Our crew is dedicated to providing superior care for your commercial roof. Our experts use high-quality products from industry leaders such as LP Smartside, CertainTeed, Mastic, Owens Corning, and others. Click here to find your local contractors and make a reservation, or simply dial 844-334-1444 to know more about us.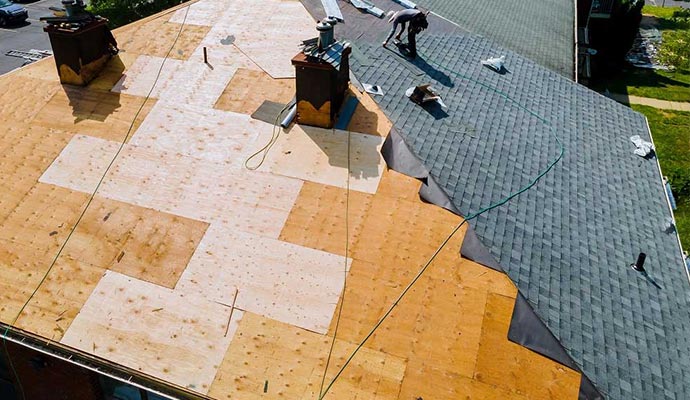 Benefits of Hiring Roofing Contractors through Roof Rangers
Commercial roof repairs will maximize your building's value and structural integrity. Rain, sun damage, and wind are all-natural enemies of roofs. Let Roof Rangers help neutralize their impact on your store. It's important to have your roof evaluated by a skilled business or a roof repair company on a regular basis. Early detection of damage can help prevent leaks and weather damage from getting out of hand.
Commercial Industries Served by Roof Rangers in Your Area
With the team of professionals we have, Roof Rangers has provided excellent roofing solutions for many businesses through the years. Commercial industries we serve in your local area include:
Schools
Restaurants
Shopping Malls
Hotels
Apartments
Churches
Medical Centers
Hospitals
Retail Shops
Industrial Parks
Get a free roof inspection to see if your roof is still in good shape, if it's towards the end of its lifespan, or if there are any areas that may be patched to save a complete roof replacement. Whether you need roof repair, replacement, or installation, we have contractors for you. Click this link to find your local contractor now!