Water-Damaged Roof Repair Service
Most homeowners often don't realize that they are facing water leaks or water damage problems from their roofs. However, when you realize the water leak or water damage, it is important to act quickly. Otherwise, it can cause more damage to your house, and there is also the possibility of mold growth. Don't get panicked!
The skilled roofing contractors of the Roof Rangers are prepared to provide you with the best water-damaged roof repair services in your local area. Small or big, our roofing contractors take pride in every task that they perform.
If your roof has been damaged by water, we can help you find local roofers who can complete the necessary repairs as soon as possible, regardless of the size of the project. Call us at 844-334-1444 to learn more about us, or click here to find local contractors near your locality.
What are the Common Causes of Roof Water Damage?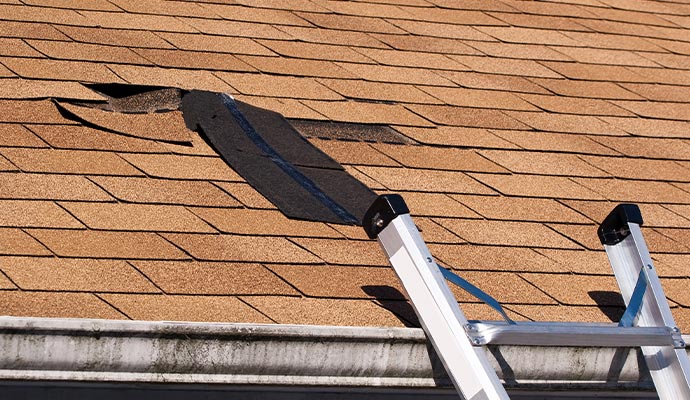 Knowing how to identify roof water damage, no matter how severe, is essential. There may be several causes that make an impact on both the integrity of the interior and exterior of your house. The below lists are some of the most common causes of roof water damage:
Ice dam buildup
The chimney is cracked
Clogged gutters
Cracked vent booting
Shingles are broken
Mold or mildew, or water stains around your chimney
Rotting wood or peeling paint around skylights
Improperly sealed valleys
Curling or buckling roofing shingles, or loss of granulation
Condensation in the attic or a musty odor in the attic
Flashing are cracked
Why Should You Rely on Roof Rangers?
With the help of Roof Rangers, you can get in touch with the best local contractors in your area for water-damaged roof repairs in your locality. We have a 24/7 response team to provide high-quality and friendly customer service. Our roofing contractors also specialize in missing shingles repair, roof-hole repair, and storm-damaged roof repair services. Fill out the form or call us at 844-334-1444 to know more about our listed contractors.