Roofing Material Type
Choosing the appropriate roofing material type is very important whether installing a new roof or replacing an old one. It can be difficult to decide when there are so many options available on the market. To choose the perfect roofing material and install it on your property, you need professional assistance.
At Roof Rangers, we have a list of professional contractors who have expertise in roof installation, repair, maintenance, and replacement. Members of the Roof Rangers are capable of handling any roofing project. Our contractors can help you with any type of roof regardless of style or materials. You just need to call the Roof Rangers at 844-334-1444 or contact us to learn more.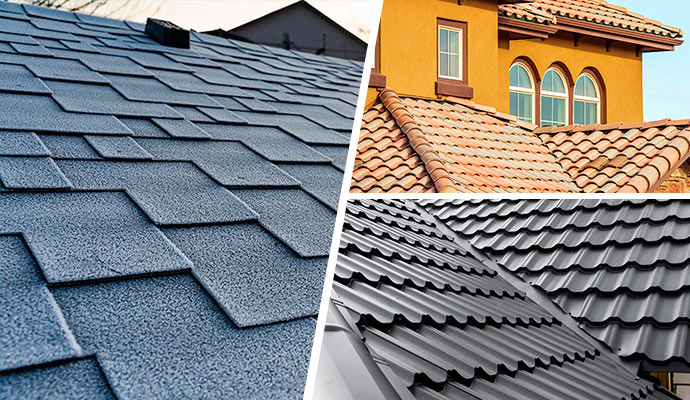 Roofing Material Types
In terms of material, the followings are some of the major roofing types:
Metal Roofing: Metal is a type of roofing material that is made of steel, aluminum, or copper. Due to its durability, and minimal maintenance requirements, metal roofing is becoming more and more popular.
Asphalt Roofing: Asphalt shingles roofing is one of the conventional roofing materials that you will find in the majority of today's properties. Asphalt roofing has a suitable price, a long lifespan, and is simple to install. This type of roof is usually made of cementitious fillers or mineral fiber.
Slate Roofing - Slate is a natural stone roofing material that has a classic appearance and great durability. Moreover, it resists fire, uses little energy, and requires less repair. Moreover, it is heavy, expensive, and requires expert installation.
We are equally expert in the installation and replacement of more varieties, including roll roofing, wood shake roofing, and tile roofing.
Trust Our Contractors for Choosing & Installing The Perfect Roofing Material
The best roofing material for your property will depend on your budget, the design of your house, and where you live. Roof Rangers' listed contractors have years of experience in offering the perfect roofing option for any property. They are highly qualified for the roofing job. If you need help with your roof, appoint certified contractors by calling at 844-334-1444. You can also find your local contractors by clicking on the link to complete the job.