Repair Service for Dark Water Spot on Ceiling
Is your ceiling covered in dark water spots? Water leaks behind the ceiling joists could be an indication of a problem. The presence of a leaky roof is a contributing factor for dark water spot.
Roof leaks on the ceiling are a major eyesore and can cause serious problems for the integrity of your home's construction. To prevent further, costly damage to your house, you should locate the source of the leak and fix it as soon as possible.
It is possible to perform the necessary repairs on a leaking roof by yourself. Please do not relax after you have noticed noticed dark water spots in your ceiling. In such cases, Roof Rangers can assist. By matching you with the best local roofing companies, Roof Rangers ensures the highest quality roof repair service possible. So if you are in need of roofing services to fix your roof leak, give us a call at 844-334-1444 right now or find your local contractors.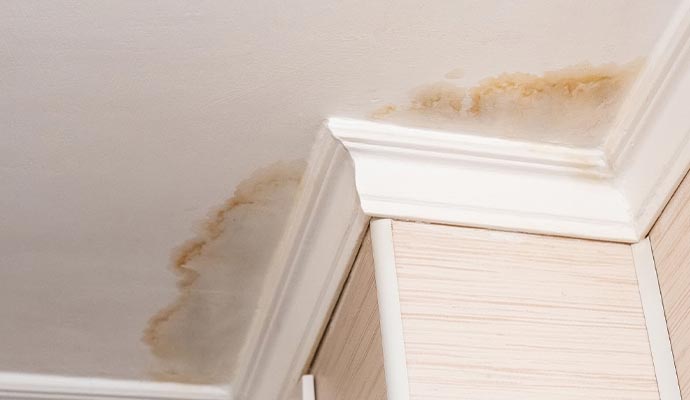 Are Roof Leaks Always Identified by Dark Water Spots?
To put it briefly, yes. Water spots on the ceiling are always an indication of a roof-related moisture issue or at least a problem that has occurred. Storm damage in your roof or other external sources of moisture can cause these water spots to suddenly. Whenever it rains, the area will be damp and leaking.
Slow, accumulative damage from water can also occur when a region near the ceiling is subjected to constant dampness. The roof needs to be inspected to determine the root of the problem. The roof damage and dark water spots will only get worse if you don't take action.