Slate Shingles Roof Installation Service
Whether you're building a new home or looking to replace an existing roof, a slate shingle roof is a smart investment providing decades of protection and style. This type of roof is made from natural slate rock. These roofing shingles are flat in shape and the slate is split into thin sheets that create a uniform thickness. Slate shingle roofs are highly durable and fire-resistant that can provide excellent protection from outside elements such as heavy storms, hail, gusty winds, and others.
A proper roofing installation is not an easy task. That's why Roof Rangers is here at your service. We are a wide network of roofing installers, ensuring the best roofing installation service for different types of roofs. So, upgrade your property aesthetics by installing slate single roofing. Give us a call at 844-334-1444 and our team will connect you with a suitable roofing contractor. You can also find your local contractors here.
Why Slate Shingles Roof Is The Best Roofing Option?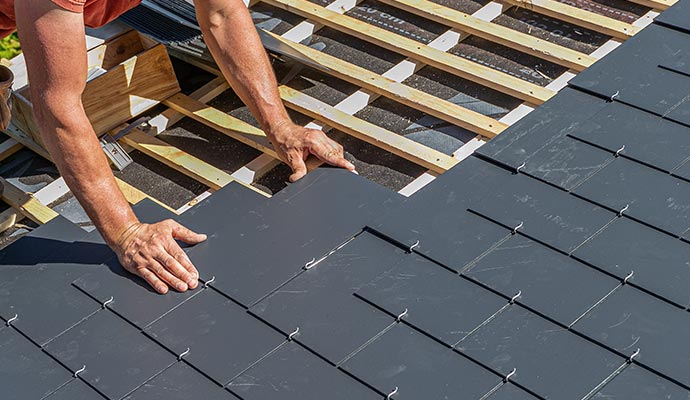 There are many roofing options available but among all of them, slate shingles roof can be a more efficient option. The longevity and durability can make this roofing a cost-effective option in the long run. The reasons are:
Eco-friendly: Slate is made of natural materials that can be recycled easily. It can make this roofing an environmentally friendly option.
Weather resistant: Slate shingle roofs are highly weather resistant to extremely harsh weather conditions.
Durable: If appropriately maintained, a slate roof can last for more than a century. And when installed correctly, some roofs have a lifespan of 150 years or more.
Energy efficient: The slate material is very dense so it can help keep your indoors warm during cold seasons and cool in hot summers.
Upgrade The Roofing on Your Property with Slate Shingles Roof - Roof Rangers
Our company has a wide range of roofing contractors who offer the best quality roofing installation services. Our enlisted professional roofers also offer services for roof repair, maintenance, and replacement. Apart from slate shingles roof installation, there are other roofing materials available to install such as metal roofing, wood shakes roof, and tile roofing. Contact us at 844-334-1444 today and we will get you in touch with a qualified roofing contractor.