Difference between Professional Vs DIY Roof Repairing
The rooftop of any property is the key structural element. So, if any damage occurs to the roof, the entire property can be destroyed. There can be several causes for roof damage, such as lack of maintenance, excess wind, high heat, aging, missing or broken shingles, leakage, etc. However, in order to repair roofs for hazardous damage, you obviously need a professional repair service. Roof Rangers are here to provide you with expert contractors near your region to serve the purpose. We are a network of professional roofing companies who are willing to give you the best possible roof installation, repair, or replacement service all over the country.
Make sure to call at 844-334-1444 and our quick response team will connect you with the best roofing contractor near you. You can also find your local service provider here.
DIY Or Professional Roof Repairing Service: Which One to Choose?
Roofing projects can be quite expensive. Trying the DIY process is really time-consuming. And it may be proved to be pretty troublesome as you might require modern labor tools. Additionally, you need to understand the process of using the materials properly. Otherwise, you might end up doing the opposite. For this reason, professional treatment needs to be performed. The followings are some of the reasons for choosing a professional roofing service over DIY: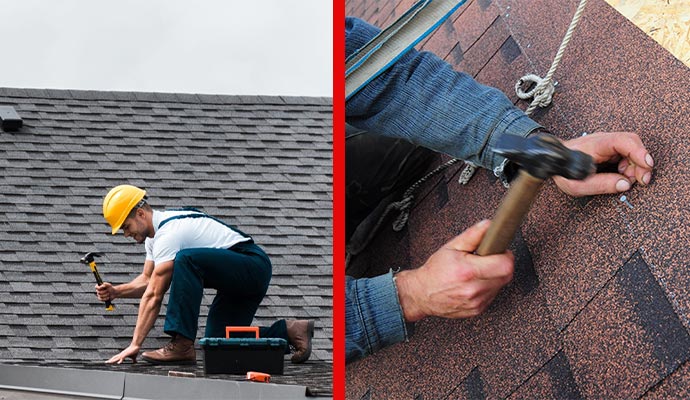 Vast knowledge & expertise: As professionals have years of experience and extensive knowledge in this roofing industry, they can do the repair work more professionally.
Liability: Your service provider takes the whole liability of the roofing process. So, you don't have to stress out.
Insurance assistance: The company that works for your roofing, also helps you in claiming the insurance policy and deals directly with them.
Lifetime Warranty: Most of the top-rated roofing companies provide a lifetime warranty on their services so that you don't have to be worried about further damages.
Cost-efficiency: Professional roofers use state-of-art tools in the repair process that might cost a fortune. You can get the best services using those materials which are affordable.
Repair Your Roofs Professionally with Roof Rangers
We have a wide range of independent roofing contractors who are pre-qualified to serve you the best services. Our ethical contractors may give you free estimations beforehand and fix the problem within your budget. Besides the repairing, we have contractors who provide services for installation, replacement, commercial roofing, etc. Dial our hotline number 844-334-1444. We'll listen to your roof-related issues and connect you to the best roofers in your area. You can also contact us online here to know more.