Signs That You Need Roof Repair Services
Almost every roof is exposed to various environmental elements & outside temperatures. Without a functional roof, living inside homes would have been troublesome. However, poor design & craftsmanship along with natural forces can accelerate the rate at which your roof degrades. But, if you spot signs at an early stage, the certified contractors from Roof Rangers can help you avoid major issues.
There are many signs to look out for that could indicate that you need roof repair. Missing, broken, cracked, or curling shingles are one of them. Moreover, leaks in the attic or ceiling may also indicate roofing issues. Whatever your problem is, count on Roof Rangers to find a roofing professional who can fix it. Give us a call at 844-334-1444 to locate a roofing contractor near you.
Signs of Roof Damage to Consider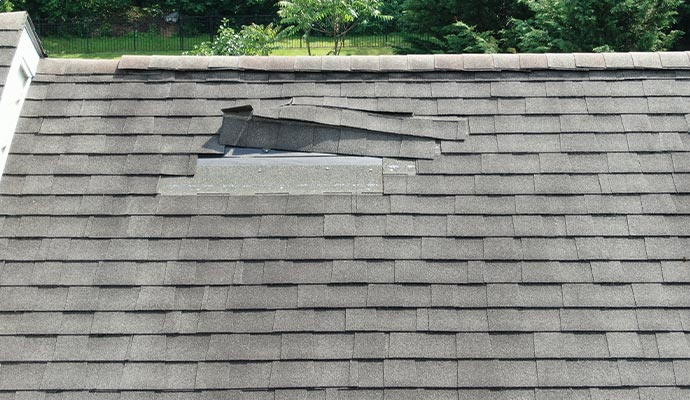 These below-mentioned telltale signs can help you identify whether you need roofing repairs. Signs of roof damage include:
Attic issues: Look out for water stains, & excess moisture problems. Even a tiny roof leak may lead to severe water damage & eventually mold growth in the attic.
Shingle damage: Inspect your roof for broken, cracked & curling shingles. Also, keep an eye out for missing shingles.
Sagging: Survey your roof from all sides to see if sagging is visible. If so, it could indicate structural problems due to moisture.
Mold & moss: If you see mold & moss build up, your roof has trapped moisture which may lead to structural damage. Mold impacts the health of your family too.
Hail damage: Inspect your roof after hail storms to see whether you have broken shingles as well as missing granules. These problems lead to roof leaks.
Bouncy feel: If you notice a bounce while checking your roof, the structural integrity of the surface has degraded, and needs repair to strengthen it.
Count on The Qualified Contractors from Roof Rangers for Roof Repair Services
If any signs of roof damage are visible to you, consider taking a roof inspection service from Roof Rangers' listed contractors for deeper analysis. We provide qualified & background-checked roofing contractors to repair your damaged roof. They have the necessary certifications & expertise to help you with roof repairs, & ensure the health of your roof. Call Roof Rangers at 844-334-1444 to find a licensed, local roofing contractor.