Full Roof Replacement by Roof Rangers in Your Local Area
Quality roofing not only looks great and protects your home and its contents but it is also meant to stand the test of time. However, what happens when that time runs out and things start to deteriorate? What happens when a terrible storm damages your roof? How do you stop water leaks and stains?
The answer is with a full roof replacement by one of the most talented contractors in the USA: a member of the Roof Rangers team in your local area. Not only is installing a proper quality roof essential to the safety and functionality of your home but replacing your roof when it is in poor shape is another thing you'll need to do on occasion as a homeowner or business owner. The Roof Rangers network is comprised of fully vetted contractors who have the experience, training, customer service skills, insurance, and warranty options required to meet our lofty standards. Click this link to find your local Roof Ranger or call us at 844-334-1444 to learn more about our products and services. We serve customers across the USA and in your own backyard.
Signs that You Need a Full Roof Replacement by Roof Rangers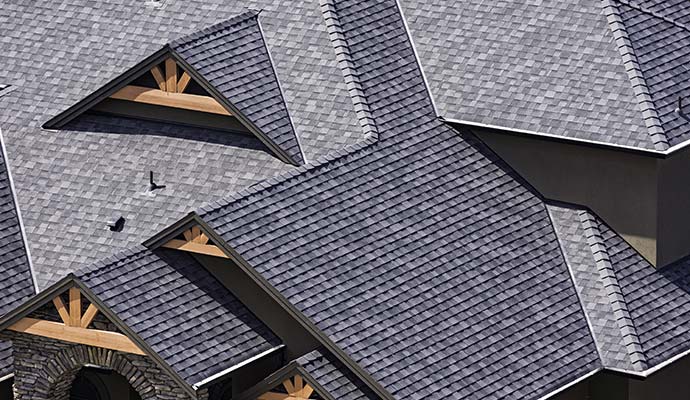 Water Leaks: Brown stains on your ceiling are proof that your roof isn't doing its job of protecting your home from the elements. A small leak is fixable, but if your roof leaks in multiple areas, you need a full roof replacement.
Missing or Damaged Shingles: Missing or damaged shingles suggest you probably need a roof replacement. Not only can inclement weather damage unprotected areas, but the intruding water can also cause structural damage.
The Roof is Aged: Every type of roof has a specific lifespan, depending on the material used and the climate where you live. Copper or tile roofs can last up to 50 years, but asphalt shingle roofs -- the most popular style in the USA -- only last around 20 years. Exposure to damaging storms will shorten the life span of any roof and lead to the need for a full roof replacement.
Trust Roof Rangers for the Best Roofing Services in Your Area
The greatest benefit of our Roof Rangers network is that all of our network partners are pre-qualified for you. We identify, recruit, and monitor our Roof Ranger to ensure that you will receive experienced & expert service in any roofing situation. Our IICRC-certified technicians will provide you with a cost-effective repair that will fix your problem permanently. To learn more about us, call 844-334-1444. You can also click here to find your local Roof Ranger and schedule services ASAP for your home or office in your local area.