Hail Damaged Roof Repair Services
You might be worried about possible hail damage to the roof if a hail storm recently passed through your neighborhood. Hail storms can cause serious damage to your roof by wearing down shingles, denting roofing materials, and cracking tiles with pounding onslaughts of big ice pellets propelled by excessive winds.
So, you have to act as soon as possible if you believe you require roof repair following hail damage to your roof. Don't worry! The expert roofing contractors of Roof Rangers are there to help you out.
Our roofing contractors will provide you with the greatest level of hail-damaged roof repair services at a cost that will fit your budget. Call us at 844-334-1444 to talk with our friendly response team, or click this link to find local contractors near your area.
What Are The Signs of Hail Damage on A Roof?
Your roof's hail damage is either very obvious or difficult to spot. There are many signs of hail damage on a roof. They are: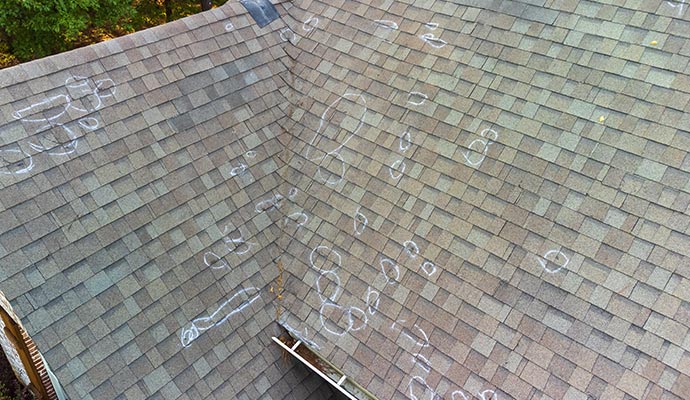 Cracks in the shingles
Dents or dings on your shingles
Dings, dents, or splatter marks to your roof flashing, gutters & roof vents
Loss of granules
Damaged shingles
Fracture of fiberglass mat
Weaken shingles' seals
Shattered shingles' surfacing
Trust Roof Rangers to Find The Best Roofers in Your Local Area
At Roof Rangers, our certified roofing contractors will do whatever it takes to provide you with top-notch hail-damaged roof repair services near your locality. They are trained to provide superior roofing repair services.
If you're looking for local contractors around you to repair your roof, then Roof Rangers can be your one-stop solution. Our roofing contractors also provide missing shingles repair, storm-damaged roof repair, and roof-hole repair services. Contact us online or give us a call at 844-334-1444 to make an appointment with us.