Roofing Services For Asphalt Shingle Roofs in Your Area
When it comes to asphalt shingle roofing services, it is crucial to hire the best contractor in your local area with the expertise and experience to guarantee a meticulously installed and long-lasting roof. Whether you require a brand new roof installation, roof repairs, or a roof replacement for your existing asphalt shingle roof, the company to contact in your local area is Roof Rangers. Our national network of contractors is vetted to include the top licensed and bonded contractors in your local area. Call us at 844-334-1444 or click here to find your local contractor today.
Other Services Offered by Roof Rangers in Your Local Area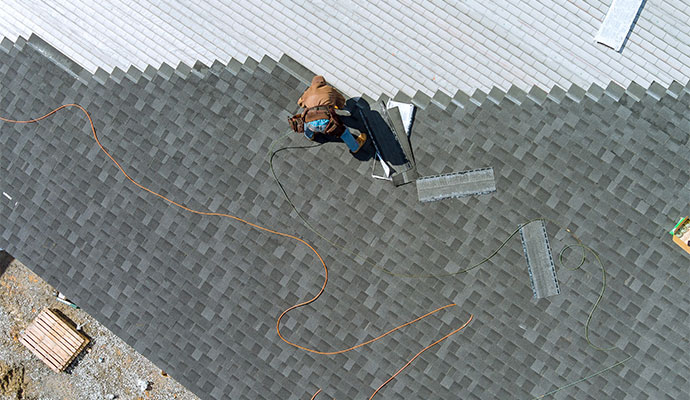 Roof Inspection: We assess your roof to evaluate its condition, identify damages, and establish the best course of action. This allows roofing specialists to address the unique requirements of your asphalt shingle roof.
Roof Installation: When you need to install a new roof, our crews will remove the existing roof, address any needed repairs, and install durable & cost-effective asphalt shingles to ensure the stability and performance of your roof.
Repairs and Maintenance: Our roofing experts will address any issues that impact your roof, including leaks, damaged shingles, flashing repairs, or ventilation concerns.
Roof Replacement: When a roof replacement is necessary, our crews assist in selecting the appropriate materials, colors, and styles that best suit your property.
Warranty and Maintenance Plans: Our contractors offer warranties on craftsmanship and materials used.
Contact Roof Rangers for Asphalt Shingle Roof Services in Your Area
It is important to keep in mind that engaging the services of professional roofing experts for your asphalt shingle roof is paramount to guaranteeing proper installation, repairs, and maintenance. At Roof Rangers, our national network of vetted contractors handles all of these issues. Visit our website to find the best local contractor in your area for asphalt shingle roofs.