Removing The Pool of Water from The Rooftop
In comparison to shingle roofs, a flat roofing system has a greater capacity to store water. The drainage system may get clogged and prevent water from passing through the gutter system during storms, floods, other water damage, or unusual events like plumbing problems. Your rooftop may therefore appear to be a pool of water. If you overlook the situation and do not take the necessary actions to remove the ponding water, it might cause huge damage to your building's structural integrity. With Roof Rangers on your side, any roofing issues can be avoided. Our company has a long list of reputable local roofing service providers who have been active in this industry for a while.
Just make sure to call at 844-334-1444 to get the appropriate solutions to your roofing concerns. You can also visit the link here to find out the local contractors near you.
What Are The Ways to Prevent Ponding Water from Your Rooftop?
Ponding water may not be dangerous right away, but if it is allowed to continue over time, the roofing surface may start to deteriorate. As a result, the roof's lifespan decreases and there may be leaks, which may be quite dangerous for the rest of the structure. Fortunately, there are a few techniques you may use to deal with the ponding water problems on your flat roof.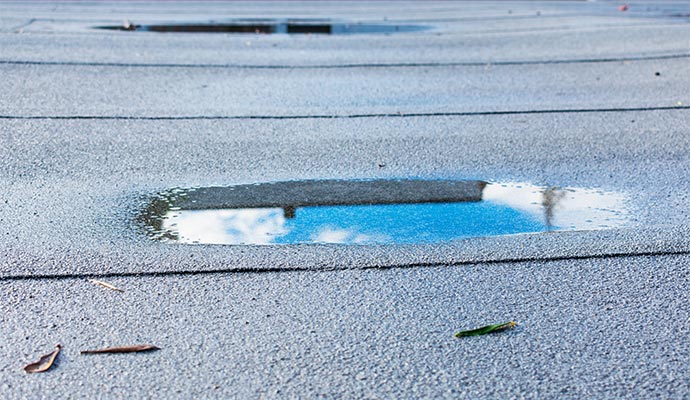 Flush the drainage system: Clogged drainage system is one of the reasons for a pool of water in the roof. Try cleaning the drainage system to get rid of twigs, leaves, and any other rooftop debris to avoid that accumulation.
Fix lower spots: The low spots on the rooftops can create small puddles on your rooftop. Fixing them can be a good solution to prevent ponding water.
Drain lines addition: Add more drain lines to the rooftop so that water can pass through them easily and doesn't flood the roof.
Repitch the roof: Re-pitching the roof can stop your commercial roof from consistently ponding if it was not installed properly. Although expensive, it might end up being an excellent solution.
So if you want these roofing solutions to prevent a pool of water on your rooftop, you can rely on Roof Rangers to find your local contractors.