Re-Roofing Services by Roof Rangers in Your Local Area
Re-roofing or replacing the roof of your house can be a difficult process. You may have major questions about the overall cost, financing terms, or which type of shingle to use to get the best coverage in your local area. Fortunately, the nationwide experts who are part of the Roof Rangers network can answer all of these questions as well as provide the best available re-roofing services in your area.
That is because our Roof Rangers team consists of experienced roofers who band together to provide top-notch re-roofing services, roof repairs, roof installations, and more for customers in your local area. To find the Roof Rangers in your neck of the woods, click here or give us a call at 844-334-1444 to learn more about us.
Our Residential Re-Roofing Process by Roof Rangers for Your Home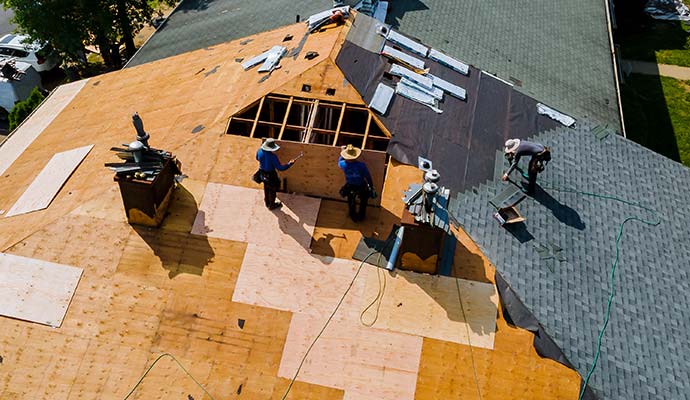 Residential roofs often have steep slopes and are more attractive in design than commercial roofs. Homeowners typically choose shingles of varying shapes, colors, and materials. The process of re-roofing ranges from a day to several days to complete, depending on the size of the roof and weather conditions.
After tarping over and removing the damaged roof frame, our crews inspect for damage and wood rot. Once the full inspection has been completed, the roof is installed properly to maximize the life cycle of the roof. It is important to remember that a roof with chimneys or other exterior additions may increase the time required for re-roofing. Once the re-roofing is completed, a final inspection is made and all building materials are removed.
Trust Roof Rangers for the Best Roofing Services in Your Local Area
The Roof Rangers network identifies, recruits, and monitors each network member to make sure they are at the forefront of training, equipment, customer service, and insurance. Our members are pre-qualified and will provide you with a cost-effective repair, installation, or roof replacement that will solve your current roofing issue. To learn more about our members and their process, call us at 844-334-1444 or click here to make a reservation for services ASAP with the Roof Ranger in your local area.