Asphalt Shingle Roof Repair Services in Your Local Area
When any part of your asphalt shingle roof is damaged or in need of repair, you will need to fix the problem as soon as possible to avoid the need for a new roof. At Roof Rangers, we have a network of roofing experts available to serve you with the most reliable asphalt shingle roof repair services in your local area.
Members of the Roof Rangers network are vetted and pre-qualified to be ethical, professional, experienced, insured, and talented. All Roof Rangers use state-of-the-art equipment and the most advanced technologies when upgrading or repairing your asphalt shingle roof. To find the Roof Rangers in your area, click here or give us a call at 844-334-1444 to learn more about us.
Types of Asphalt Shingle Roof Repairs by Roof Rangers
Missing shingles: Replacing shingles that are missing or severely damaged.
Damage to roof flashing: This is a more complex asphalt roof repair that may involve replacing plywood or applying a new roof tar patch to fix the leak.
Pooling water: A common issue with asphalt shingle roofs, this usually occurs after a heavy downpour and is a sign of a drainage problem that we can fix.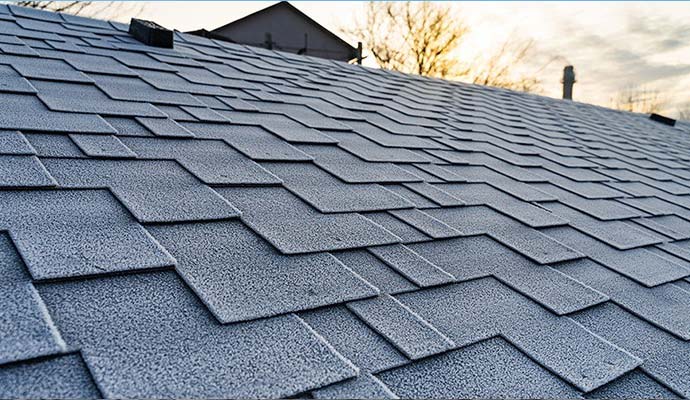 Asphalt Shingle Roof Repair Vs. Replacement at Your Home
When your asphalt shingle roof is showing signs of age, it does not necessarily mean that you need to get the entire roof replaced. Damages to selected areas of your roof can be addressed with repairs. Missing patches of granules on your shingles are a sign that you need roof repairs ASAP.
Of course, no roof lasts forever. With an asphalt shingle roof, the life expectancy is 15 years. If your roof has reached or is approaching that age, a full replacement is wise. Our Roof Rangers experts handle both repair & replacement roofing.
Trust Roof Rangers for the Best Roofing Services in Your Local Area
The Roof Rangers network identifies, recruits, and monitors its network to make sure that each network member is at the forefront of training, equipment, customer service, and insurance. Our members are pre-qualified, so you can be confident that you will meet with a highly-skilled, ethical contractor who will provide cost-effective repairs that fix your problem the first time. Be sure to click here to find your local Roof Ranger ASAP or dial 844-334-1444 to learn more about our asphalt shingle roof repairs in your local area.