Inspection & Estimate for Roof Installation
Every building, including your house, needs a roof. Some roofs last a lifetime, but others require replacement after only a certain number of years. If your roof is damaged and you set up your mind to install a new roof. But you're confused about how much it may cost or what time frame it will take. Don't worry at all!
Roof Rangers's contractors provide free inspections and estimates to clients. Our contractors are always promised to provide you with the finest roof installation.
To get a free inspection and estimate for your roof installation, all you have to do is give us a call AT 844-334-1444 or find a contractor in your area. One of our roofing contractors will come to your home to perform an inspection of your current roof and make recommendations for new roofing installation.
When Is It Time to Have Your Roof Inspected?
Whether you need roof repairing, roof replacement, or roof installation for your commercial roofing, our contractors are by your side to inspect your building's roof. First, know when you may require an inspection: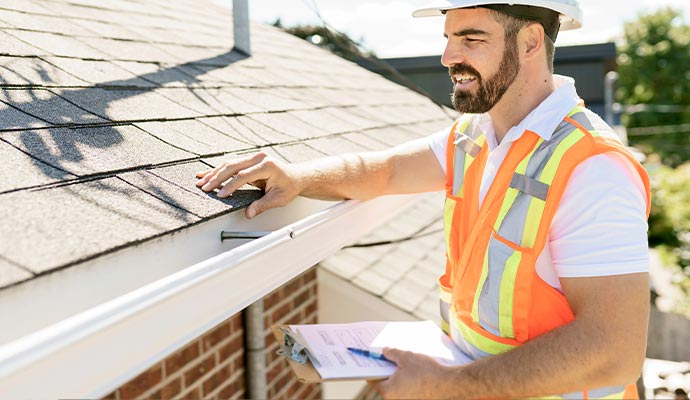 Buying a new home: It's important to engage a roof inspector in addition to a general house inspector when purchasing a property. An expert roofer will conduct a comprehensive roof certification examination, while a home inspector will report on the state of the entire house.
See any leaks? Having a ceiling that constantly drips water is a clear sign of roofing issues. Water stains or other signs of a leak in the ceiling should prompt you to schedule a roof check at your earliest convenience.
After a severe weather: Storms such as hurricanes, tornadoes, and even just strong thunderstorms may inflict significant damage to a roof, no matter how old or new it is. If a strong storm has recently passed through an area, property owners should schedule an assessment to assess the damage and get the restoration process underway as soon as feasible.
Free Inspection And Estimation for Roof Installation
Whatever your roofing needs are, Roof Rangers's contractors are here to help. Every roof inspection is done by a licensed and insured contractor who knows what to look for. So, don't think twice call us at 844-334-1444 or find your local contractors to inspect your roof and offer you a free estimate for new roof installation.