Damaged Shingle Roofing Repair Services in Your Local Area
With a roof made of shingles, you are likely to get occasional leaks or damages caused by storms and high winds. Left unattended, these issues can run up a costly bill in damages due to water, mold, pests, and more. While a small drip can seem minimal, if the source of the leak isn't found, it'll only get worse until it causes major water damage to your property. That is why Roof Rangers offers superior roof repairs for damaged shingles in your local area.
Roof Rangers has a team of experienced roofers to provide you with the most reliable damaged shingle roofing repair services in your local area. To find the Roof Rangers in your area, click here or give us a call at 844-334-1444 to learn more.
How Do Shingle Roofs Get Damaged in Your Local Area?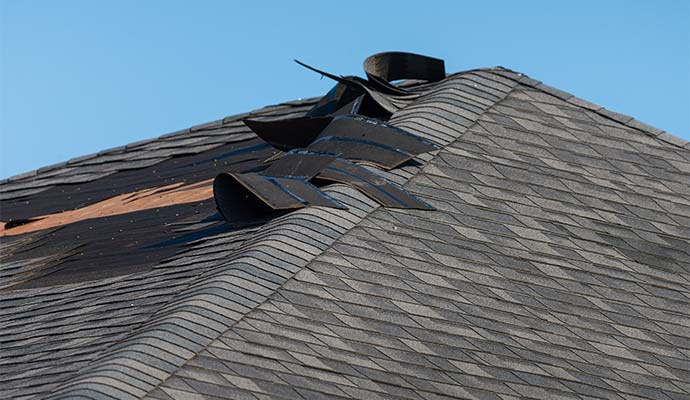 Over time, a shingle roof can get damaged by hail or constant erosion from sun and wind damage. Tiny hairline cracks can develop as the shingles age. Once the shingles start cracking, water can slip past the barrier and leak into the roof structure. Shingles also loosen over time because of temperature changes that make them expand and contract.
Repairing the shingles as they become damaged is important. Most of the time, the damage is limited to a small area. Because loose or missing shingles can lead to significant water damage, you need to keep your roof structure protected so it will last for years to come. Our professional contractors at Roof Rangers have the knowledge, skill, and experience to repair any roof damage.
Trust Roof Rangers for the Best Roofing Services in Your Area
The Roof Rangers network identifies, recruits, and monitors its network to make sure that each member is at the forefront of training, equipment, customer service, and insurance. The Roof Rangers network members are pre-qualified for you. When you schedule your free estimate appointment, you can be confident that you will meet with a highly-skilled, ethical contractor that will provide you with a cost-effective repair that will fix your problem the first time, every time. Click here to find your local Ranger or call us at 844-334-1444 to schedule our services ASAP at your home or office.