Roll Roofing Installation in Your Local Area
Roll roofing is a type of roofing material that is made up of large, continuous rolls of felt or asphalt. It is an economical and relatively easy-to-install option for flat or low-slope roofs. You can also add them to lean-to additions, sheds, and outbuildings. When done properly, a roll roofing installation can be quick and efficient, making it a popular choice for commercial properties. Within our nationwide network of Roof Rangers, we have multiple contractors in your local area who can provide a top-notch roll roofing installation.
Roll roofs are durable and can withstand harsh weather conditions. When you are ready to add one to your home or office, you can rely on the Roof Rangers. We are a nationwide network of roofing experts who are vetted, insured, and well-respected in this industry. To access a network member, give us a call at 844-334-1444 or you can simply go to this link to select your own Roof Ranger from your local area.
Benefits of Choosing Roll Roofing for Your Commercial Property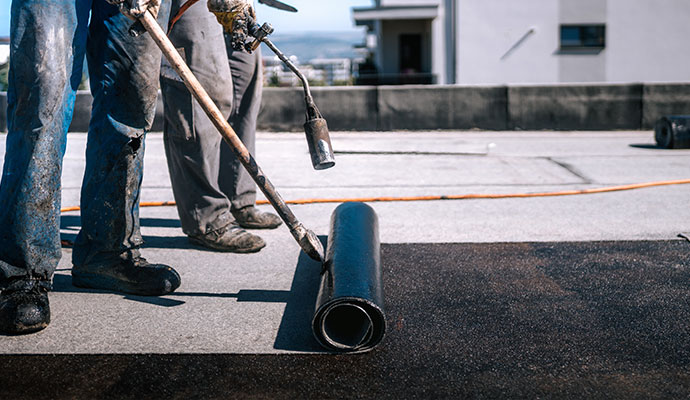 Cost-effective: Roll roofing is a budget-friendly option for roofing projects, making it a popular choice.
Quick installation: Roll roofing is relatively simple and quick to install, limiting labor costs.
Durable: Despite its affordable price point, roll roofing is still durable and can withstand harsh weather conditions.
Versatile: Roll roofing can be used on multiple roof types, including flat and low-sloped roofs.
Low-maintenance: Once installed, roll roofing requires minimal maintenance, saving time and money.