Roof Deck Repair Services in Your Local Area
Proper roof decking is essential to avoid roof leaks, water damage, and other issues at your home or office. Roof decking works as a shield to your roof. At Roof Rangers, we have crews of experts in all 50 states and in your local area that can handle these issues and more. As a national network of roofing contractors, we work with certified craftsmen that are experts at all types of roofing services, including decking, vents, flashing, gutters, downspouts, and drainage pipes.
In addition to our top-quality roof decking repair services. our crews also handle services for roof installation, roof repair, and much more for our legions of satisfied customers around the country and in your local area. To learn more about us, dial 844-334-1444 or click here to secure our services from a local Roof Ranger today.
What Are The Different Categories of Roof Decking?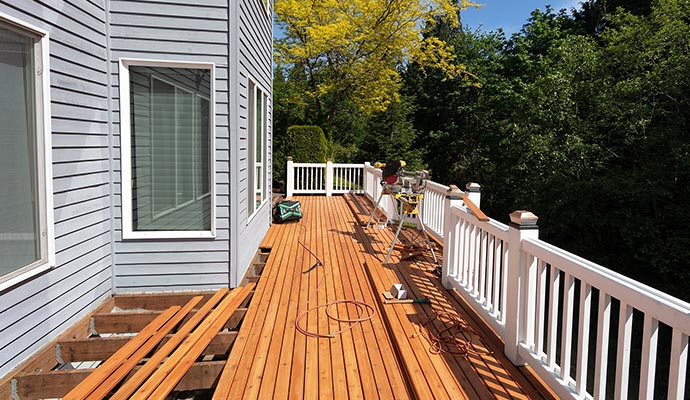 Roof decking is a crucial part of your roof structure. It acts as the structural element of your property as it ensures its integrity. It secures the location of the rafters as well as maintains proper spacing. There are many types of roof decking that include:
Steel
Precast concrete panel
Structural concrete
Cementitious wood fiber
Wood planking
Plywood
Poured gypsum
Wood fiber
Trust Roof Rangers for the Best Roof Decking Services in Your Area
In the prevention of roof damage, the benefits of roof decking services cannot be overstated. Let us provide your roof decking services to benefit your property, too. We are an insured company that provides top-notch services from a local contractor in your area. To learn more, call 844-334-1444 or click here to reach out to a Roof Ranger in your local area today.