Roof Deck Repair Services in Your Local Area
Proper roof decking is essential because, without it, your residential or commercial properties will have to suffer various causes. For instance, roof leakage, water damage and others. So, it kind of works like a shield to your roof. Roof decking is not see-through. That's why it is necessary to consider the decking service seriously.
To prevent the damages, a full repairing process is much needed. And Roof Rangers play a vital role to connect you to the local service providers near you for roof decking repair services. Apart from repairing, we have got you all covered for these services - roof installation or full replacing.
You can now get all the services we provide for roofing near your local areas. Just call us at 844-334-1444. We are here to give you all ears to your problems and assign local distributors best suited for you.
What Are The Different Categories of Roof Decking?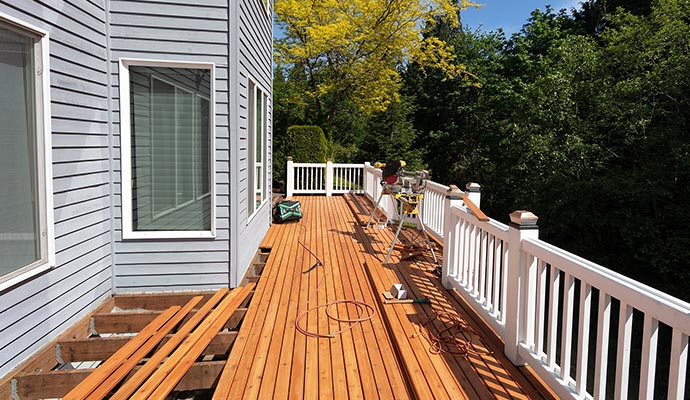 Roof decking is a crucial part of your roof structure. It acts as the structural element of your property as it ensures its integrity. It secures the location of the rafters as well to maintain the spacing properly year by year. There are a variety of categories for roof decking. They are:
Steel
Precast concrete panel
Structural concrete
Cementitious wood fiber
Wood planking
Plywood
Poured gypsum
Consider Roof Rangers to Get Topnotch Roof Decking Services
In the prevention of roof damages, the beneficiary of roof decking services knows no bounds. And our expert crew is always at your service for any struggle you face. We have many service providers all around different states. Get your local service contractor suitable for the requirements you are in need. We are an insured company providing you with the finest services at a very affordable cost. Just dial the number 844-334-1444 or click here to have a view of your local roofing pros.