Temporary Tarp Over Services
In the aftermath of a natural disaster, homeowners and business owners often seek tarp-over services for their damaged roofs. This plan calls for a temporary solution to leaky roofs until permanent repairs can be made. Emergency tarp-over services are often the first and most crucial procedures to take when addressing damage caused by fire or storms.
The contractors at Roof Rangers offer professional tarp-over services to prevent further damage to the interior of your home or business until permanent repairs are made. Our licensed contractors are available in your local area and provide a top-notch solution to avoid costly damages. Find a local roofing expert in your region right now by contacting Roof Rangers' many available contractors. For additional details, contact us at 844-334-1444.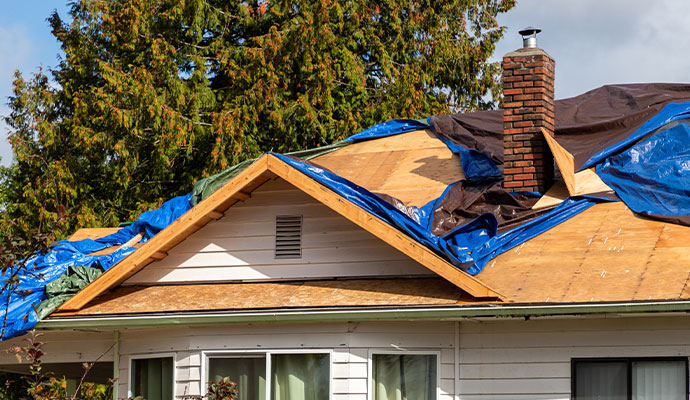 Why Should You Consider Tarping Over Your Roof after Disaster Damage?
Wind, storms, and other environmental factors can wreak havoc on a home that is being repaired if a tarp isn't placed over the roof. Any further destruction will likely result in higher repair bills and a lengthier period during which you must relocate your household.
A roof tarp is a relatively cheap, fast, and efficient approach to prevent further restoration delays and get you back into your home as soon as possible. Use a tarp to cover your roof and save any valuables that were able to be protected from the original disaster.
Count on Roof Rangers for Prompt Tarp Over
We are a group of independently owned roofing companies committed to raising the bar for professionalism and client satisfaction in the roofing industry. Roof Rangers only accepts members with all the necessary credentials, including sufficient expertise, ongoing training, warranty, and insurance. Contact us today at 844-334-1444 or click here to learn more about roof installation, repair, or replacement services for keeping your home safe and sound after any disaster..