The Signs That You Need to Know for Repairing Your Roof
Most homeowners don't give their roofs much attention until leaks, holes, or other destructive signs start to show up. However, this is not a particularly good practice. Regular maintenance of your roofing will save you from constantly running around with a bucket under the drippy water from the ceiling. Other damages, aside from any natural calamities, are difficult to identify when you pay the least attention. However, various warning signs might appear ahead, letting you know when the roofing system needs to be repaired. It is simple to begin the repair procedure once you are aware of these signs.
Understand The Roof Damaging Signs First!
Roof repair is not a DIY process. You need to hire professionals to spot the problem's source and start a quick repair process using the best equipments. However, early detection can save you a lot of money. On the other hand, when you do the early repair, you can save the expensive cost of the replacement process. So, you must know the signs first: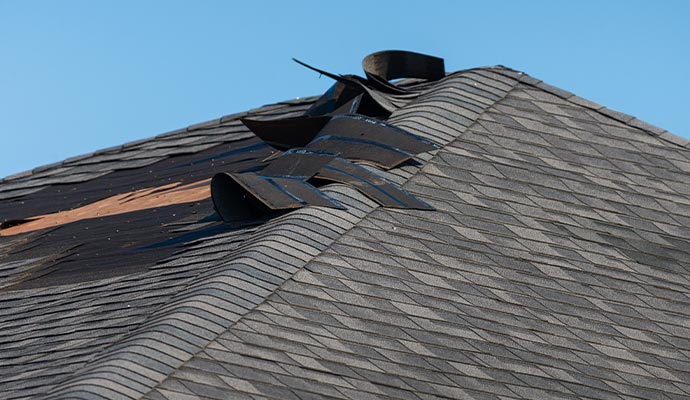 Missing, Broken, or Loose Shingles: Your roof's shingles may become loose due to harsh weather, strong winds, tornadoes, or other natural catastrophes. These shingles have the potential to seriously harm the roof's structural integrity if they are not restored. Therefore, you must fix the issue as soon as you see it.
Clogged Gutter: Small branches, tree leaves, shingle granules, and other debris can block the gutter system. Because of this, water and other waste materials cannot move through it, resulting in a pool of water on the roof. Thus, it is vital to take appropriate steps in this circumstance.
Discoloration: Discolored shingles could indicate damage or moisture problems. Your roof may be showing signs of mold growth if black patches have begun to appear. Therefore, if this indicator occurs, contact experts for repair.
Wear & Tear around Roof Fixures: It is wise to routinely inspect the area around the roof's fittings, including pipes, vents, and chimneys. The roofing may suffer severe damage as a result of damage in these areas. Call the experts if you see any cracks or deterioration.
Increased Energy Bills: Your HVAC system may have to work more to maintain the inside temperature of your house if your roof is damaged. It could also be a hint if you've noticed that your energy expenses are above average.
Roof Rangers Offers All Types of Roof Repairing Solutions
Our business has gathered a large number of roofing service providers that are committed to providing you with the best roof repair options. You can reach us at 844-334-1444 or use this link to instantly find your local contractors.